on
June 17, 2019
at
1:15 AM
For Father's Day, my family decided the best way to let me know what they thought of my job as a dad was to take me to see Men In Black: International.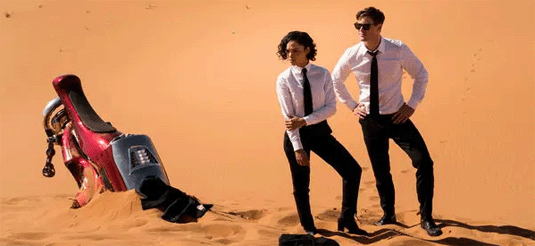 Short review: Not great if you've seen the other films, and it kind of reminded me of a TV show pilot. It was softly rebooting the franchise, giving us new characters in a familiar setting, referencing the previous installments and ending with every loose end tied up, all ready for the next movie if the return-on-investment is good. There were a few plot contrivances, and there was even a phony tabloid newspaper to set up a gag that the first movie made (about all those "Aliens meet with the President" headlines being true) even though I don't think anything like the old Weekly World News is in print anymore.
The two leads, Chris Hemsworth and Tessa Thompson, play their roles well and have their own style of trying to be funny that doesn't attempt to carbon-copy the relationship between Will Smith and Tommy Lee Jones. There were also lines about how the MiB organization was changing in its mission, from only protecting humans from knowing about the aliens among them to being tasked with also protecting the aliens from other aliens, so it's nice that someone has been giving the premise a little thought.
One thing I'll say is that the franchise this reminded me the most of is Harry Potter, especially the Wizarding World movies. Take just about any scene where a person that's never seen the hidden side of the movie's story is escorted into a large, secret area. You get modes of transportation, architecture, directional signs, and workaday methods of dealing with large amounts of traffic that are unlike what we experience in real life. The only differences are magic vs. technology and fantasy creatures vs. aliens, really. Even the music seems to swell in the same way as the impossible is presented as an everyday happening in the hidden world. It's a weird kind of dovetailing as special effects allow for just about anything that we've reached some kind of convergence that really only differs when it comes to the decor.
Anyway, for more specific spoiler-thoughts, hit the jump below.
↓ Read the rest of this entry…