on
November 3, 2020
at
1:17 AM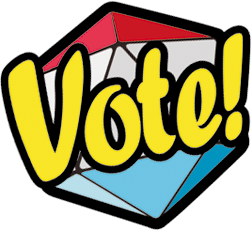 Just vote. I mean, at the very worst, one can think that by doing so they're sticking it to someone they don't care for. It's not the healthiest reason, but hey, perhaps it's enough to get the nation engaged again. I'll be headed to the polls with the family sometime tomorrow morning. I suspect they may try to vote me out of the house, but hopefully that's not on the ballot.
Did I mention we all need to vote? Vote!
And there's this:
• Just when I thought I couldn't think Tom Lehrer was any more amazing, he's releasing his songs into the public domain. Now, so far there's none of his performances or mp3s or anything like that, just the sheet music and lyrics. But if you want to re-record "The Old Dope Peddler" (something 2-Chainz had to ask permission to do a while back) and can produce decent musical output, go nuts!
• Perhaps this shows that A.I. is more worried about humans than we thought, as a computer-driven camera covering a futbol match in Scotland decides to target a bald ref's head rather than the ball.
• If you don't quite recall every hit song of 1990, this mashup should refresh your memory.
• It's rumored that Oscar Isaac is in talks to become Marvel Comics' Moon Knight for a Disney Plus TV series. I like the direction they've taken the character in the comics, as someone who's probably only behind Deadpool for being considered out of his mind. My only question about these shows is if they're integrating other bits of the MCU or trying to make it stand-alone.
• In the Mandalorian series, we were introduced to a couple of speeder bike troopers who were a lot more self-aware than most of their fellows, noticing they couldn't hit anything with their blasters. The Auralnauts took that idea and ran with it, giving us the Existential Troopers.
• Like a few thrift-store artists, one "Dave" at Arrowhead Vintage & Handmade Goods makes stale generic paintings into more nerd-worthy images. I like how it's not all Star Wars, especially when classic away teams from the USS Enterprise show up in a landscape.
• And finally, if you don't mind a little tension (and something that was more appropriate for Halloween), here's Horror Poster Nightmare. You have a limited amount of time to find six differences in eight sets of horror movie posters or the dynamite some madman is dangling between the images will go off. So I guess it's from an upcoming Saw sequel?