on
May 24, 2016
at
8:50 PM
Remember my whole "learning" experience with expanded monitor capacitors? How I couldn't get them to budge from their circuit board? How I thought my trusty main monitor was destined for the scrap heap?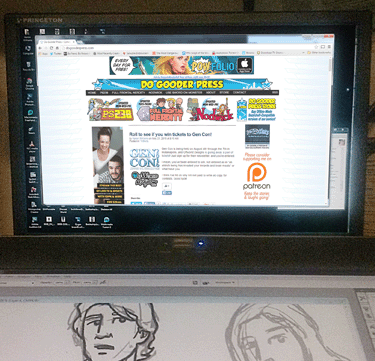 Beware! I live!
Ignoring my awful phone-camera (and photoshoppery to make the browser window something other than a blur), I think we can all agree the monitor is what the technical experts refer to as "on." In gaming terms, at least from my perspective, this is like a character who has the most rudimentary repair score managing to restore a warp drive to full functionality without blowing up the ship. I should also mention that said repair skills are specialized in mending socks.
I had so little hope I would be able to pull this off, I didn't even take pictures of my handiwork. My previous attempt involved a soldering iron that was basically a cheap plastic housing around a heating element. Given enough time, it can melt things and make flux bubble. It didn't have any effect on the stuff holding the capacitors in my old monitor's guts. Then, this past weekend, there was an estate sale down the block, where I found this: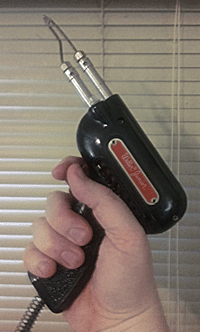 That there is a vintage Weller Junior 8100 soldering gun, 120 volts, which I bought for a whole seven dollars. It even came with the original cardboard box, flux, and spool of solder. I thought I might damage the circuit board (I read that this is a possibility when removing things), but I'd get a moral victory of managing dethrone my nemeses. Once they lay on the ground at my feet, I was directed to a nearby place called the Electronics Supply Company, where I was sold replacement capacitors for about six bucks (thanks once again to my Patrons, your donations are being spent frugally!). I put them in and applied hot metal to the contacts. For any amateurs out there like myself, it's amazing how much a board can look like it's been through a meteor shower and still work. I was certain I'd short something with too much solder somewhere or that a few of the too-big globs would cause other problems, but… so far they haven't.
Joking aside, I feel very fortunate to have found the tools I needed without spending a fortune along with having instant access to the information I needed. It kept me from having to blow over $100 I didn't have to get an LCD back up and running.
Now I need to find other things to melt together… after I finish some more artwork, of course. 🙂