on
April 28, 2015
at
5:48 PM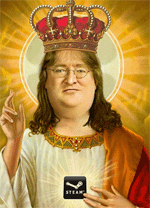 I'll have a new Full Frontal Nerdity up for the Escapist tomorrow morning, and it's to do with the recent kerfuffle over what went on and then was rescinded at the Steam Workshop regarding mods for video games, specifically, Skyrim.
They thought it'd be a good idea if modders could put their work on Steam and get paid for doing so. The problem was they didn't look at all the problems inherent in this kind of system:
• Original Authorship: There was nothing stopping someone from downloading a mod somewhere else, putting it on Steam, and claiming it was theirs. Community policing would probably have helped somewhat, but I'm not sure how something formal could be put into place nor how it could be determined who coded what at such-and-such a date for every case.
• Mod Dependencies: There are lots of mods for costumes, armor, and animations. However, they don't all conform to the "vanilla" game. Other mods have created new and improved types of bodies, so if you bought armor for one body type and didn't realize you needed the models, you've just purchased something that's going to look very glitchy at best. There are also mods that are almost considered essential, many having things like "script extender" in their names, without which hundreds of mods just won't work. Steam would've needed these files, but there was no guarantee the people who wrote them would put them up for sale.
• Copyrighted Material: There are loads of mods that apply images or models from such sources as My Little Pony, Warhammer40k, and tons of separate video game franchises. Steam would've had to police those and handle DMCA takedowns by the score, even if they offered them for free.
Those are just the three I could concisely type out without sounding like a textbook on economics and computer programming. In a way, the most insightful comment came from Chris "Campster" on this episode of the Diecast Podcast (note: it was recorded before Steam ended this paid-mods program) where he said something to the effect that the Workshop basically let the gaming world learn about and experience the problems with patent law over the span of about three days.
So anyway, now I'm having to write a new script for my cartoon that I'd been so proud of having put together several days before deadline. Thanks, Steam!