on
February 20, 2018
at
12:17 PM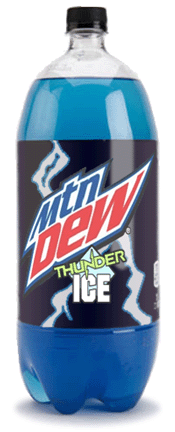 We had "thunder ice" today in KC, in that an ice storm that closed schools and canceled flights was accompanied by thunder. I was surprised to find out that "Thunder Ice" is the name of a hockey arena in Angola, Indiana, but not a flavor of Mountain Dew, most likely the color of Smurf-derived windshield wiper fluid. Go figure.
• As a lover of all things spicy, I wouldn't mind signing the waiver for a dish of this Scottish ice cream made with Carolina Reaper peppers.
• Two fans of the Super Mario Bros. movie have been on an 11-year mission to archive and glorify the film. I only vaguely remember the trailer and that it starred Bob Hoskins, the actor who played Eddie Valiant in Who Framed Roger Rabbit? I also see on his IMDB page that his character in Super Mario Bros. is listed as "Mario Mario." That could lead to one of those gags that goes, "Who are you, and how did you get in through the pipes?" "I'm Mario. And I'm Mario."
• If you're jealous of those who go on cruises, enjoy some schadenfreude at one Carnival cruise ship that "descended into violent anarchy." Had I been a passenger, I think I would've asked for more than a 25% off coupon for another cruise.
• A mysterious and sudden treefall occurred near Washington's Lake Quinailt that some were speculating was a smaller version of the Tunguska Blast. A weather science guy looks at the evidence and gives us their run down on how it probably happened.
• When Skynet's robot drones finally come for us, they may catch us unawares due to being disguised as donuts.
• Lastly, a flash game time-waster, Knife Hit. Try to throw your knives at a spinning log without striking another knife. Hit apples for bonus points and watch out for increasingly erratic spinning on the part of your target.