on
March 13, 2021
at
2:49 AM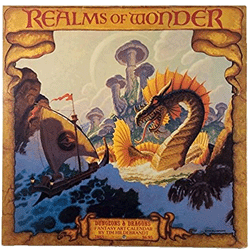 I've got a project I'll hopefully be unveiling in the near future, but one thing that came in handy was this in-browser Fantasy Calendar Generator thing. It's really great if you want something other than a reskinned version of our own calendar, but doing the math about how to get fifteen months into a 532-day year is just too spreadsheet-y to be fun. You can name your days, your months, set their lengths, even have astronomical events make regular appearances, and then you can save the calendar to your computer as a .json file that you can load back in whenever you want.
It's a pretty nifty tool. My calendar has a three-day month in it called "Breen" that nobody likes to talk about, and the fact I can do that without causing the rest of the year to collapse into chaos gets this web application a thumbs up.
Image is the "Realms of Wonder" calendar from 1983. I have one in "hung on some kid's wall" condition, which means it probably wouldn't fetch the $50 asking price on Amazon.