on
June 16, 2018
at
3:39 PM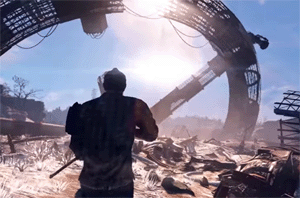 Following up on my enthusiasm for the Fallout 76 trailer comes (warning: blood 'n' violence) a compilation of gameplay and other in-game footage from E3. It pretty much confirms that it's not going to be the role-playing game some of us hoped for. There will be quests, base building, multiplayer, and what looks a lot like a Fortnite-style experience.
While there's nothing inherently wrong with the concept, Fallout does have a whole pile of lore that will probably have to be squared with whatever Fallout 76 presents, including:
• Why the Vault itself isn't being used as a base of operations, shelter, or a source of materials.
• Where all of these monsters in the game came from so (relatively) soon after the war and where they went in the following 175 years.
• Why any nuclear missiles were left unlaunched at all.
• How the dragons from The Elder Scrolls managed to arrive in this setting.
While I'm not sure this will be my kind of game, I am interested to see some of the things shown in the various bits of footage explained further. The image above shows what looks like the remains of a space station. It makes me wonder if it's a reference to some rumored content from the Van Buren project (also known as Black Isle Studios' version of Fallout 3), namely the Ballistic Orbital Missile Base, perhaps? It could easily be something else or just a REPCONN Aerospace ruin of some sort.
If nothing else, it'll be interesting to see what's unveiled while we wait for Fallout 5. 🙂